I slept in. Dustin and Jeffrey and I arranged plans to go to shopping centers to get Dustin fancy things for a wedding he's attending. All our schedules were a little wacky, but we managed to refuel my car, get lunch from the Ace of Sandwiches, and head out to the Stanford Shopping Center. Dustin was seeking a watch, possibly a dress shirt, and definitely a tie.
Our first stop was Macy's. Didn't like any of the ties nor shirts, and it turns out the watches were all in the women's Macy's. We stopped at the Express (they have nice shirts!), but it was expressly for women, so no dress shirts. We got to the women's Macy's and found the watch Dustin liked...for $40 more than he could get it for on Amazon.
Then we all went to the Hair International and got haircuts. I had a few inches taken off the back to get rid of all the split ends - I haven't had a haircut in over a year. It feels better now.
Having failed to acquire a nice shirt and a nice tie, we drove up to the Hillsdale Shopping Center in San Mateo. Since we were thirsty, we got frozen yogurt, then proceeded to the Express which was not only having a sale but also had a Foursquare check-in deal. I wound up getting a sharp red dress shirt. Jeffrey and I helped Dustin identify shirt colors (he's colorblind) and he picked one and a shiny black tie.
We stopped by the Lego store and reminisced about our childhoods. I particularly appreciated the Imperial A-Wing: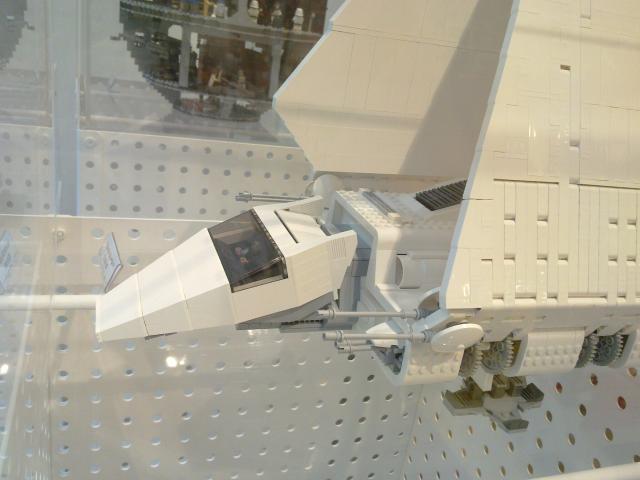 Note the Death Star in the adjacent display box.
Then we went to Macy's and Dustin got a couple more of the stretchy athletic Nike shirts that he likes, and I got one in dark blue. The Macy's apparently requires presentation of photo identification for all credit card transactions, which is at the very least in violation of their Merchant Agreements with Visa and Mastercard. I intend to report them - while the policy is perhaps well-intentioned, it cannot be considered an effective fraud deterrant, and it raises unpleasant questions about privacy and information security. I think of the same sort of thing when I hear about government policies - oftentimes a well-intentioned policy winds up accomplishing the opposite of its intent, or fails to accomplish its stated purpose while causing unintended consequences. We should create rules based on what they will actually do, not what we want them to do.
Finally, we went to a Thai place in Mountain View for dinner, and then went home and I stuffed my bed in the backseat of my car and drove back to Berkeley and unloaded things and processed more backlogged TODO items.