Great weekend. (And yes, I know I haven't blogged in a while. I've been busy.)
Saturday: Slept in. Went to the Counter for lunch and had a 1 pound burger, topped with swiss cheese, grilled pineapple, dried cranberries, scallions, roasted bell peppers, mayonnaise, and a fried egg. I finished it, but have no intention of ordering a full-pound burger ever again.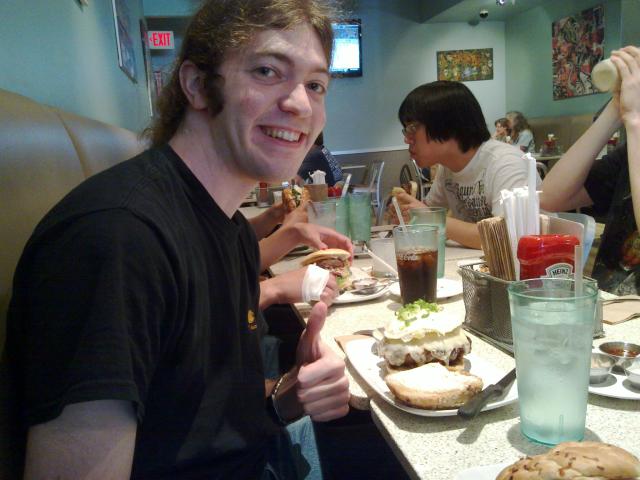 I also learned enough about gstreamer to get audio playback of the Kinect audio capture. Sending the data through ROS is still a work-in-progress; mostly because packaging OpenKinect safely is funky.
Sunday: I rediscovered my Nokia earbuds in my backpack. I've been missing out on proper bass response in my headphones all summer. I listened to a few of my favorite OCRemix songs and got goosebumps from the warmth of the bass. I can't wait until I can use my speakers back in Berkely again.
I was also semi-invited to a birthday party for Susie Fu, a TAMSter from two years below me who went to MIT and is now interning with Microsoft in Mountain View. She instructed the Brohaus to dress up, but all of my dress clothes were in Berkeley, so I wound up wearing jeans, a button-up shirt, my red fedora, and my trenchcoat. I had Chuan try on my trenchcoat, and the result was nothing short of fantastic: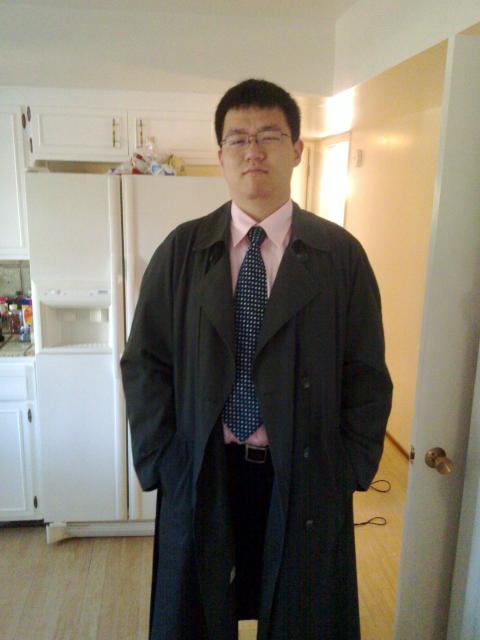 You want to trust this man with your money.
We drove up to SF for the house party, which was substantial in size. There was a variety of food and drink, a number of people from TAMS, and lots of people from Microsoft. I met another PhD student who works at MSR on theory (in particular, asymmetric cryptography), and a pile of other PMs and SDETs. I also ran into another guy from Lucasfilm that I'd met before at the Berkeley recruitment event who had also been wearing a trenchcoat at the time. He recognized me without my trenchcoat, and identified me as "the trenchcoat guy." As a bonus, three other guys at the party were also wearing fedoras. Someone else I talked to also knew Zach Abel. It's a small world. Most everyone was pretty nerdy, and I enjoyed meeting them all.
Susie (or one of her housemates) has a very fluffy calico cat named Zoe. We were fast friends. I miss having a cat.
Later in the evening, the partygoers played several rounds of Never Have I Ever. Let's just say that there was quite a wide variety of things that people had and had not done. Around 22:40, I called for everyone to help clean up the place before we left, which was a great success. I washed ~2/3rds of the dishes. I like being a helpful partygoer, and the hostesses were appreciative. All in all, a great party, and I'm glad the rest of Brohaus talked me into going even though I didn't have dress clothes.