Woke up about an hour before my appointment with my counselor. I decided to look at the box that was sitting on my bed when I arrived home last night.
Turns out that the box I mentioned yesterday was neither xmas presents nor from my parents. It was also not from any address I recognized - some Brian Jeffries guy in Kentucky. Curious, I opened the box. Inside, I found...another box. Somewhat heavy. This one had a handle, and a rather unique design on the outside of an exploded-view of rocket of some sort powered by a mouse wheel. It seemed strangely familiar, but I couldn't quite place it. Then there was a sticker on the back of the box that threw me off - a lithium-ion battery warning.
"What's going on here?" I thought to myself. "I don't recall ordering anything recently, and I don't know anyone who lives in Kentucky." Confused, I applied my skeletool blade to the seal on the box. I opened the lid. And then I saw this piece of paper: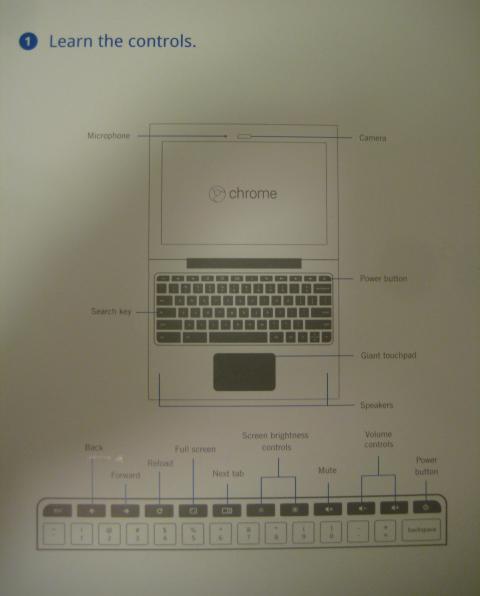 "Oh. I know what that is!" thought one part of my brain. "No way!" went another. "Wow, that was a while ago!" offered a third. A fourth added, "Good thing you didn't open the box last night."
For those of you who still have no clue what I received: my box contained a Cr-48 ChromeOS laptop, courtesy of Google. I had applied to the Cr-48 Pilot Program back in early December, but figured my chances of receiving a unit were quite a long shot, and completely forgot about it over break while I was in various other cities.
Looks like I was mistaken. A second review of the box indicated that it was delivered on December 21st, which meant that it sat in my apartment complex for a good couple weeks before my housemate could bring it in. I'm pleased - this suggests that my apartment complex and all who pass through it are trustworthy.
Obviously, I did what any self-respecting nerd would do: I tore off the rest of the packaging, popped in the battery, and powered it up. It booted very quickly, as advertised - about 10 seconds. Logging in and getting started was easy - the hardest part was getting my just-out-of-bed hair into a condition suitable for a login picture. Bookmarks and the like synced from the Google servers, and I was left with a Chrome instance not unlike those on kraken and phoenix, my desktop and laptop, respectively.
And shortly thereafter, I realized I had about 15 minutes to eat breakfast and get my rear end over to campus, or I'd be late for my appointment. I set the Cr-48 on its charger (also a delightfully small object) and ran to campus.
I analyzed my present state of being and plans for the semester with my counselor, and was satisfied with the insights obtained. Afterward, I dropped by the BiD lab to visit my friends. They described me as looking much healthier and happier. They're completely right. The past month has done amazing things for my mental health. I've gained back the weight I lost last semester.
I returned home so I could buy groceries (since I still had very little in the house) and played around with ChromeOS. My thoughts so far:
The keyboard feels very nice. It'll be interesting to see how the rubberized keys wear over time, as well as how they handle sweaty hands and so forth.
The touchpad drives me bonkers. It's not quite as flakey as the one present in the circa 1996 lapbrick that I used back in the day, but it tended to jump around a lot and mess up scrolling pretty often. I may start using an external mouse. Alternately, I'll start using the keyboard for scrolling wherever possible.
I miss focus-follows-mouse. I've gotten so used to throwing the cursor around without having to click that having to click on things feels annoying.
I do not miss the weight nor the heat that the Cr-48 doesn't provide my lap.
Suspend and resume are incredibly fast. Faster than you can reasonably safely close and open the lid. Reconnecting to the wireless network, on the other hand, isn't quite so snappy, although for that I blame my router - if I were running hostapd on my desktop, it'd probably be equally quick.
I lasted for about three hours before I decided that I needed a terminal (which is kinda sad, really) so I enabled developer mode by flipping the hidden switch. It might be worthwhile to look for an SSH-like webapp to deploy on my server. I wouldn't feel comfortable securing it with anything but client certificates, though, so I'll have to look up if ChromeOS supports them or not.
Speakers are not completely awful, but nothing wonderful either. As would be expected for a 12" laptop.
This is whiny, but I wish I could figure out how to paste into aterm. Probably could read some documentation to figure that out.
This is also whiny (and probably way outside Google's target audience) but I also wish I could get ssh to read my user config file and private keys without me having to specify them with -i and -F.
Last whiny thing: where did vi go? It's not in my $PATH and I can't find it (although there is some locale stuff still present). Nor is there any trace of nano or pico. Weird. Good thing there's qemacs; I was beginning to worry I didn't have a text editor (besides cat and sed).
Nothing has crashed yet, as far as I can tell. This bodes quite well, but makes me feel a tad less useful as a beta tester.
I've yet to try out the free 100MB/month of Verizon 3G, or plugging in a memory card with photos, or in fact any USB devices. I'm sure the opportunities for each of these will arise as time goes on. This notebook has much better battery life than my Dell Latitude D830 (although it's much less powerful) and is definitely more convenient to break out at a moment's notice. Thanks, Google. This was a super-awesome welcome-home present. I'll do my best to break your software so others won't have to.
That was today's round 1 of awesomeness. Round 2 was my housemate getting a 10 cup fuzzy logic rice cooker. You can set a time for this thing so your rice will be ready when you get home. It will keep rice moist for a full day. It plays a happy tune when the rice is ready. Andrew and I tested it out tonight, and the brown rice was pretty awesome. My rice consumption is going to at least double this semester.